The ad NEOPLAN STARLINER coach bus has been sold and is not included in the search!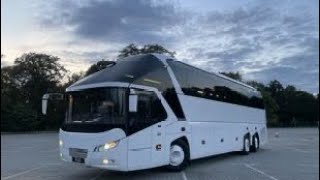 1/41
Year of manufacture
03/2014
Location
Poland
Wrocław
Purchase on credit is possible
Description
Overall dimensions
42.65 ft × 8.37 ft × 13.02 ft
Engine
Fuel consumption
8.93 gal/100mi
Cabin
Autoradio
CD, MP-3, CD-changer
Cruise control (tempomat)
Electrically operated mirrors
Autobus świeżo sprowadzony z Niemiec. W stanie idealnym! Bogato wyposażony, na bierząco obsługiwany na MAN-ie w Niemczech. Oryginalna książka serwisowa z MAN, oryginalny przebieg, można sprawdzić po numerze VIN całą historię autobusu. Zapraszamy na oględziny i jazdę próbną :)
Автобус свіжопригнаний з Німеччини, в ідеальному стані. Багата комплектація, вчасно обслуговувався на офіційному сервісі Ман в Німеччині. Оригінальна сервісна книжка MAN, по номеру він можна перевірити цілу історію автобусу. Ціна розмитненого в Україні 110000$. Запрошую до співпраці. Маємо 3 таких ідентичних автобуса. Слава Україні!