The ad Mercedes-Benz Econic garbage truck has been sold and is not included in the search!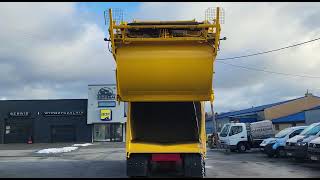 1/19
Year of manufacture
02/2015
First registration
2015-02-25
Location
Poland
Placed on
more than 1 month
Description
Overall dimensions
30.02 ft × 8.2 ft × 10.83 ft
Truck body
Body dimensions
21.33 ft × 8.2 ft × 10.83 ft
Cabin
Cruise control (tempomat)
Electrically operated mirrors
The subject of the sale is a Mercedes Benz Econic 1830 vehicle in working order

1st registration: 2015-02-25
Mileage: 256,233 km
Power: 300 hp / 220 kW

EURO VI

Capacity: 7,698 m3
Transmission: Allison automatic
Fuel: diesel
Suspension: air-sprung
Tire size: 315/70 R22,5
Seating capacity: 3
Number of axles: 2
Wheelbase:
I-II 4.00 m

Length: 9.15 m
Width: 2.50 m
Height: 3.30 m

Body:
Make: Norba
Capacity: 16 m3

Equipment:
360 camera
3 seats
bridge lock
ABS
additional headlights
power windows
power mirrors
spring seats
hydraulic power steering
hydraulics
immobiliser
trip computer
twin wheels
compressor
rearview camera
auxiliary lamps
fog lamps
roof hatch
sun visor
speed limiter
factory radio, USB
adjustable suspension
toolbox
signaling
LED lights
rotating lights
tachograph
cruise control
double rear wheels
multifunction steering wheel

We provide:
Vehicle service after purchase
Operational repairs of the equipment purchased from us
Transportation to any place in the world

At your request we will perform:
Replacement of filters and oils in the car
Changing filters and oils in the body

Additional service
As a market leader in Central Europe specializing in the sale of municipal vehicles and equipment, we would like to offer you to take advantage of our many years of experience in this field and sell your redundant municipal equipment through us

We will take care of the following on your behalf:
- contacting the customer in several foreign languages
- Preparation of sales and after-sales documentation.
- organization of road and sea transportation
- Organization of customs documentation (customs clearance, Eur 1, T1)
- Preparation of the vehicle for sale

Possibility of leasing older vehicles, even 18 years old.

If you want to know more details contact us.
Since the currency rate is subject to change, the price in PLN: 219 000.
Przedmiotem sprzedaży jest Mercedes Benz Econic 1830 pojazd sprawny

1wsza rejestracja: 2015-02-25
Przebieg: 256 233 km
Moc: 300 KM / 220 kW

EURO VI

Pojemność: 7 698 m3
Skrzynia biegów: automatyczna Allison
Paliwo: diesel
Zawieszenie: pneumatyczno-resorowe
Rozmiar opon: 315/70 R22,5
Ilość miejsc siedzących: 3
Liczba osi: 2
Rozstaw osi:
I-II 4,00 m

Długość: 9,15 m
Szerokość: 2,50 m
Wysokość: 3,30 m

Zabudowa:
Marka: Norba
Pojemność: 16 m3

Wyposażenie:
kamera 360
3 miejsca siedzące
blokada mostu
ABS
dodatkowe reflektory
elektryczne szyby
elektryczne lusterka
fotele resory
hydrauliczne wspomaganie kierownicy
hydraulika
immobiliser
komputer pokładowy
koła bliźniacze
kompresor
kamera cofania
lampy dodatkowe
lampy przeciwmgielne
luk dachowy
osłona słoneczna
ogranicznik prędkości
radio fabryczne, USB
regulowane zawieszenie
skrzynka narzędzi
sygnalizacja
światła LED
światła rotacyjne
tachograf
tempomat
tylne koła podwójne
wielofunkcyjna kierownica

Zapewniamy:
Serwis pojazdu po zakupie
Naprawy eksploatacyjne zakupionego u nas sprzętu
Transport w dowolne miejsce na świecie

Na Państwa życzenie wykonamy:
Wymianę filtrów i olei w samochodzie
Wymianę filtrów i olei w zabudowie

Usługa dodatkowa
Jako lider na rynku Europy Środkowej specjalizujący się w sprzedaży pojazdów i urządzeń komunalnych, chcielibyśmy zaproponować Państwu skorzystanie z naszego wieloletniego doświadczenia w tym zakresie i sprzedaży za naszym pośrednictwem zbędnego sprzętu komunalnego

W Państwa imieniu zajmiemy się:
- kontaktem z klientem w kilku językach obcych
- przygotowaniem dokumentacji sprzedażowej i posprzedażowej.
- organizacją transportu drogowego i morskiego
- organizacją dokumentacji celnej (odprawa celna, Eur 1, T1)
- przygotowaniem pojazdu do sprzedaży

Możliwość leasingu pojazdów starszych, nawet 18 letnich.

Jeśli chcesz poznać szczegóły skontaktuj się z nami.
Ponieważ kurs waluty może ulec zmianie, cena w PLN: 219 000.