TOYOTA D.A.C. truck camper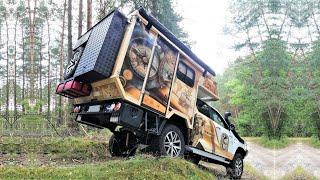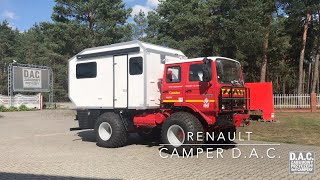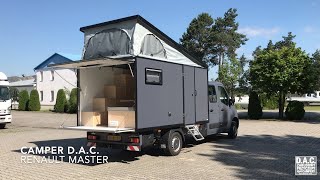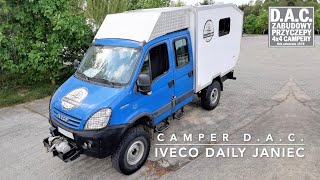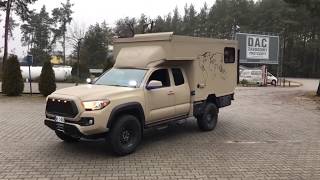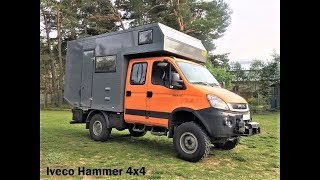 1/63
Location
Poland
Daleszyce
Placed on
more than 1 month
Description
Overall dimensions
11.48 ft × 6.23 ft × 4.59 ft
Need delivery?
Calculate the cost of delivery
The offer and price does NOT apply to the CAR
The offer and price are for a brand new Camper body
without equipment - internal (furniture, household appliances, etc.)
photo: DAC.pl - camper - pick up

Possibility to make internal equipment according to individual customer specifications - additionally payable

A motorhome ideal for 4-5 people, lovers of off road and independent tourism, with a full range of equipment.
The structure is strong and durable, designed on a self-supporting container frame, walls with a thickness of 50 mm, the highest quality insulator for extreme conditions.
Equipment of the camper with modular furniture, which allows you to achieve a truly impressive space when unfolded
to sleep.
Fold-out upper bed for two people.
Water tank with a lockable external connection, connection to an external shower, water heating, waste water tank, gas stove, sink, independent heating, refrigerator.
LED lighting, also in the part with a fold-out upper bed, and outside under an awning for evening dining.
Sockets for charging a phone, laptop, convenient storage in furniture, a table with a folding leg, a drawer refrigerator or a refrigerator with classic shelves, a wide range of interior fittings.
External sun protection awning.
The use of a solar panel system in conjunction with batteries gives independence in access to electricity, for starting and maintaining the operation of electrical devices in the vehicle, e.g. when parking in the car park

STANDARD DESCRIPTION OF THE CONSTRUCTION

length / width / height / 2400/3400 x 1900 x 1400

1. IZOTERMA - Side walls - ultra-light multi-layer self-supporting structure
Sandwich thermally insulated with hardened polyurethane foam (without thermal bridges) with sheathing:
LAMINATE / LAMINATE - additionally with an insert made of 6 mm thick waterproof plywood.
2. Thickness of walls, roof about 40 mm + floor 30 mm.
3. Tilting roof (lifted; left, right, front or rear wall) on gas shock absorbers with a gasket,
mounted on a worm hinge - France type
4. Thermally insulated floor, double-sided laminate + interior lining - wood-like
5. Reinforcements in the walls of buildings according to D.A.C.
6. Building entrance door 1 pc clear width 600 mm. on the RIGHT wall, closed with a cassette with
opening from the outside and inside the building - location and size according to the attached technical drawing.
7. Cassettes, hinges - POMMIER - external strips - ALU fittings
8. Superstructure above the car cabin - acc. drawing
9. Sleeping couch with pull-out part for 2 people
10. Ladder to facilitate entry at the door

OPTIONAL EQUIPMENT:

- DAC.pl foto camper pick up

IT IS POSSIBLE TO MAKE THE BODYWORK ACCORDING TO THE CUSTOMER'S INDIVIDUAL DETERMINATIONS

ADDITIONAL INFORMATION:

- Warranty for the body - 24 months
- Delivery time: about 8 weeks from order (possible express)
- 23% VAT should be added to the given prices. (does not apply to ex port inside the EU).
- Preferential transport in Poland and Europe

WE ARE LOOKING FOR DISTRIBUTORS OF OUR PRODUCTS THROUGHOUT POLAND AND EUROPE

The announcement and sample photos may differ from the presented version of the equipment.
This announcement is for commercial information only and does not constitute an offer pursuant to Article 66. & amp; 1. of the Civil Code.
The seller is not responsible for any errors or outdated content of the advertisement.

Tel. show contacts

Wojtek - 693 473 386
Anna - 695 632 797 English
Aleksandra - 603 822 999 - English
Oferta i cena NIE dotyczy AUTA
Oferta i cena dotyczy fabrycznie nowego nadwozia typu Camper
bez wyposażenia - wewnętrznego ( meble, AGD, itd.)
foto: DAC.pl - camper - pick up
Możliwość wykonania wyposażenia wewnętrznego według indywidualnych wyznaczników klienta - dodatkowo płatna
Camper idealny dla 4-5 osób, miłośników off roadu, turystyki niezależnej, z pełną gamą wyposażenia.
Konstrukcja wytrzymałą i trwała, zaprojektowana na samonośnej ramie kontenera, ściany grubości 50 mm, izolator najwyższej jakości do ekstremalnych warunków.
Wyposażenie campera w meble modułowe, umożliwiające po rozłożeniu osiągnąć naprawdę imponującą przestrzeń
do spania.
Rozkładane górne łóżko dla dwóch osób.
Zbiornik na wodę z zewnętrznym przyłączem zamykane na kluczyk, przyłącze do zewnętrznego prysznica, podgrzewanie wody, zbiornik na brudną wodę, kuchenka gazowa, zlewozmywak, ogrzewanie niezależne, lodówka.
Oświetlenie ledowe, również w części z rozkładanym górnym łóżkiem, oraz na zewnątrz pod markizą do wieczornego biesiadowania.
Gniazda do ładowania telefonu, laptopa, wygodne schowki w meblach, stolik ze składaną nogą, lodówka szufladowa lub z klasycznymi półkami, szeroki asortyment wyposażenia wewnętrznego.
Zewnętrzna markiza chroniąca przed słońcem.
Zastosowanie systemu paneli słonecznych w połączeniu z akumulatorami, daje niezależność w dostępie do energii elektrycznej, dla rozruchu i podtrzymania pracy urządzeń elektrycznych w pojeździe np. w czasie postoju na parking
OPIS STANDARDOWY ZABUDOWY
dł./szer./wys./ 2400/3400 x 1900 x 1400
1. IZOTERMA - Ściany boczne - ultralekka wielowarstwowa konstrukcja samonośna typu
Sandwich izolowana termicznie utwardzaną pianą poliuretanową (bez mostków cieplnych) z poszyciami :
LAMINAT / LAMINAT - dodatkowo z wkładem ze sklejki wodoodpornej o grubości 6 mm.
2. Grubość ścian,dachu ok.40 mm +podłoga 30 mm.
3. Dach uchylny (podnoszony ; ściana lewa,prawa, przód lub tył) na amortyzatorach gazowych z uszczelką,
mocowany na zawiasie ślimakowym – typ Francja
4. Podłoga izolowana termicznie ,laminat dwustronnie+ wykładzina wewnętrzna - drewnopodobna
5. Wzmocnienia w ścianach zabudowy wg. Technologi D.A.C.
6. Drzwi wejściowe zabudowy 1 szt szerokość w świetle 600 mm. na ścianie PRAWEJ ,zamykane na kasetkę z
otwieraniem z zewnątrz i od środka zabudowy - umiejscowienie i rozmiar wg załączonego rysunku technicznego.
7. Kasety, zawiasy – POMMIER - listwy zewnętrzne – okucia ALU
8. Nadbudówka nad kabiną auta – wg. rysunku
9. Leżanka do spania z wysuwana częścią 2 osoby
10. Drabinka ułatwiająca wejście przy drzwiach
WYPOSAŻENIE OPCJONALNE :
- DAC.pl foto camper pick up
ISTNIEJE MOŻLIWOŚĆ WYKONANIA NADWOZIA WEDŁUG INDYWIDUALNYCH WYZNACZNIKÓW KLIENTA
INFORMACJE DODATKOWE:
- Gwarancja na nadwozie – 24 miesiące
- Czas realizacji: około 8 tygodni od zamówienia ( możliwy expres )
- Do podanych cen należy doliczyć 23 % VAT. (nie dotyczy ex portu wewnątrz UE).
- Transport preferencyjny na terenie Polski i Europy
POSZUKUJEMY DYSTRYBUTORÓW NASZYCH PRODUKTÓW W CAŁEJ POLSCE i EUROPIE
Ogłoszenie i przykładowe zdjęcia mogą się różnić od prezentowanej wersji wyposażenia.
Niniejsze ogłoszenie jest wyłącznie informacją handlową i nie stanowi oferty w myśl art.66.&1. kodeksu Cywilnego.
Sprzedający nie odpowiada za ewentualne błędy lub nieaktualność treści ogłoszenia.
Tel.
show contacts
Wojtek - 693 473 386
Anna - 695 632 797 English
Aleksandra - 603 822 999 - English
Important
This offer is for guidance only. Please request more precise information from the seller.
Safety tips
Seller's contacts
Anna Długosz-Jach
Languages:
English, Polish
Poland, Swietokrzyskie, 26-021, Daleszyce, Suków - Papiernia 249a
Seller's local time: 08:09 am (CEST)
Selling machinery or vehicles?
You can do it with us!